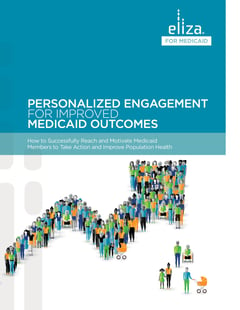 More and more State Medicaid agencies are turning to pay-for-performance incentives to improve health outcomes and lower costs. However, engaging the Medicaid population to attain these quality-based incentive goals is extremely challenging and requires personal motivation to get members to take action.
Enter Eliza - our Health Engagement Management solution is the only single-vendor solution capable of delivering a truly personalized two-way conversation
that helps motivate members to engage in their healthcare journey.
This complimentary eBook examines the issues that complicate Medicaid member engagement and proven strategies to improve health outcomes and lower costs. It includes a comprehensive case study illustrating how Eliza's Health Engagement Management solution delivers improved quality measures while managing costs.
Key takeaways:
How to successfully reach and motivate members
Designing Medicaid solutions for results
How one client improved ten HEDIS/state pay-for-performance measures, in addition to retaining 9% of its membership resulting in over $15M in retained revenues
View the new eBook now.